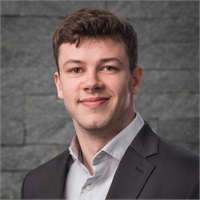 Retirement Planning & Investment Operations Manager
We all have our different reasons for entering the financial services industry, but one underlying commonality that almost  all of us have is enjoying helping others achieve their goals. That is what lead me to Freedom Financial Partners in the fall of 2020 – myself and our team derive energy from being able work with clients like ours. It really is a feeling, and accomplishment, unlike any other.
Personally, working at Freedom Financial Partners has been a true blessing. Even from a young age, I have always enjoyed participating in team sports and working with others to achieve a common goal. As an FFP team member, I have the grand opportunity of being a point of contact for many of our clients' account related questions and/or concerns. Working with our clients, I strive to provide assistance that is both extensive and efficient. Your troubles are ours to solve, and I am thrilled to be a part of that process.
As I continue to work with new faces, I look forward to the opportunity of creating lasting client relationships. Sure, I draw pride in saying that I call myself one of your financial representatives, but it is much more rewarding to say that I am someone that you can respect and trust. I cannot wait to work with you!
On the personal side:
I am a Minnesota born-and-raised 2020 college graduate from Iowa State University. When I am not fielding client calls and emails, I am probably playing pick-up basketball with my friends or bumming around at the lake. Maybe, hopefully – but probably not, by the time you are reading this, the Vikings have brought a Super Bowl title to Minny! If not, I love my Minnesota sports teams no matter what!
Education, Licenses and Financial Services Activities:
Graduate of Iowa State University – Bachelor of Finance
Licensed Investment Advisory Representative (IAR)